A few nights ago, C and I got the basics of how to make a stir fry, then added our own ingredients as we went along. I really am not a red meat person, but we've been doing Spring cleaning of our fridge / cabinets to make way for our clean eating 'challenge' that starts today (More on that in a new post- and I say challenge because it sure will be!)
Things you'll need:
2 tablespoons cornstarch (I used organic wheat flour)
2 teaspoons sugar
8 tablespoons soy sauce
1/4 cup water
1 pound shaved steak, cut into little strips
1 tablespoon ginger
3 tablespoons olive oil
cinnamon
*Whatever vegetables you want*
*Whatever spices / herbs you want*
The best thing about this dish is that it's so customizable, able to adapt to whatever vegetables etc. you have on hand.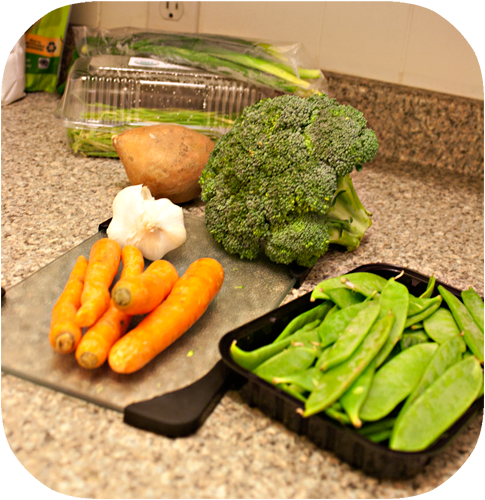 First, I got all of my vegetables out and peeled / cut. I used carrots, snow peas, broccoli, sweet potato, wheatgrass, 2 garlic cloves, and an onion (In the pic there is scallions; I wanted to use an onion for a choppier meal).
Next I got out the ingredients for my sauce. In a bowl, combine 8 tblsp of Soy sauce, 2 tsp of sugar, 1/4 cup of water, 2 tblsp of wheat flour, and a little bit of cinnamon (less than a tspoon but more than a pinch). Put to the side.
Now to start cooking. Heat your wok or pan and put 3 tablespoons of olive oil in it. Saute garlic and 1 tablespoon of ginger, and then add meat. Cook for 2-4 mins until brown, and then add your snow peas.
Cook for an additional 3 minutes, then add your mixture. Add all the vegetables short after, then let it simmer for 4 minutes. At this time I added a bit more soy sauce and also some curry powder (I swear I try not to add it to everything.. lol).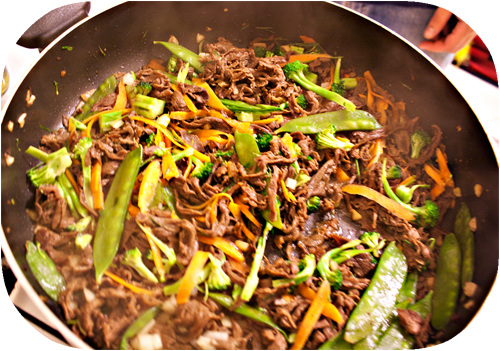 When all the vegetables are soft are when the dish is finished. We put ours over leftover plain macaroni because we didn't have the time to make rice. Turned out great!
Enjoy! If you've tried a recipe, let me know how it turned out for you, and what you did differently if anything :) And if you're enjoying these posts, please click
here
and give me a vote!