So last night, C wanted a non-vegetarian meal and chose ground beef for dinner. We wanted something different, so I searched for something that sounded good and we might all like. I eventually found something:
Serbian beef, veggie, + potato bake
. I never follow recipes exactly, but I'm sure its just as delicious if you do
ground beef
onion, carrot, green pepper, celery, potatoes
paprika, salt, black pepper, crushed red pepper, cinnamon, cloves
water, red wine, half and half
beef bouillon cube
First, take out the veggies you'll be using (1 onion, 2 celery stalks, 2 carrots, etc.) and cut them up *shred carrots with a peeler. *We also added a clove of garlic + scallions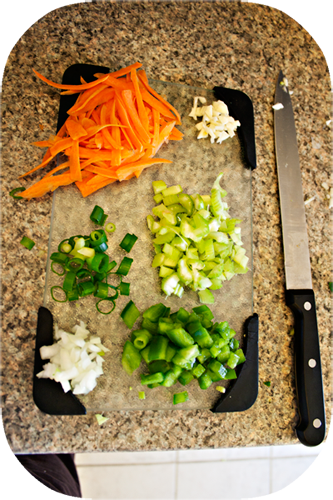 Put your lb of thawed beef in a large saute pan with 2 tablespoons of olive oil and brown. When it's finished, put it aside in a different bowl, along with a little bit of the remaining liquids. We dumped most of the rest, except for just enough to saute our veggies in.
Saute the veggies until they are nice and tender, then add beef to the pan once again.
By this point you will be ready to add your spices *the recipe calls for paprika, salt, pepper, crushed red pepper, cinnamon, and cloves, along with the bouillon cube. We substituted curry powder for paprika which made it much spicier.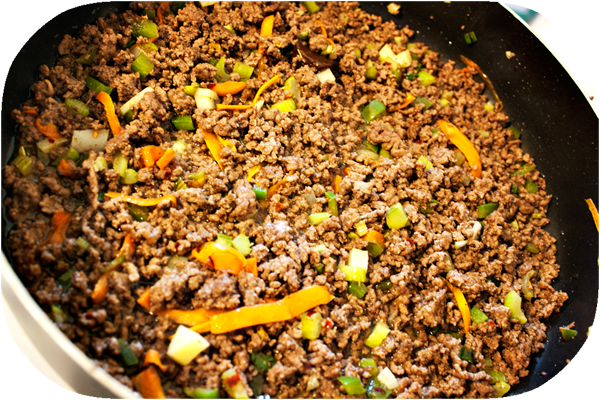 Everything should be smelling amazing by now, and will be ready to go in the baking dish.
Line the bottom of the baking dish with thinly sliced potatoes, then add the meat + veggies on top. cover the top of the dish with more sliced potatoes (if i could do-over, i definitely would add more potatoes to the dish)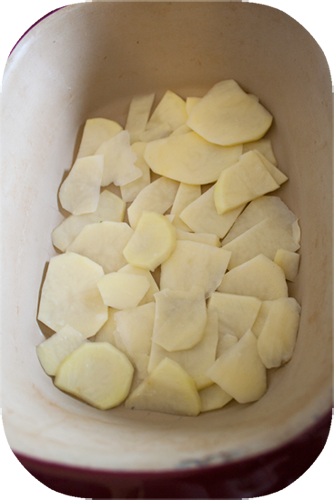 We didn't add a cover, and let it cook @ 400 degrees for 30 minutes in the oven before we enjoyed it. The top layer of potatoes became crispy but tender, a delicious combo. The dish was spicy, but it tasted like food you would order from
Kabob and Curry
, so naturally we were in love! Even A gobbled it all up!
This may seem like a heavy caloric meal, but you can burn calories from being on the computer, so give those fingers a workout and give me a vote
here
, please? xo